the get real movement
Providing role models. Creating allies. Together.
What is Get REAL?
We're a Canadian non-profit focused on combatting 2SLGBTQ+ discrimination and promoting acceptance in schools, summer camps, and workplaces.
We accomplish this by offering inclusivity workshops to schools, camps, and businesses; and by providing leadership development through our university chapter network, and our high school after-school programs.
Our programming aims to break down prejudice, promote unity, and foster compassion in our world.
Workshops
Fun, engaging, peer-to-peer workshops designed to break down prejudice, promote compassion, and provide positive role models for 2SLGBTQ+ young people and allies alike.
Chapters
A university network of LGBTQ+ students and their allies, working on the ground to make their local communities safer and more inclusive.
Our university chapters
Our chapters are made up of passionate, creative, and dedicated 2SLGBTQ+ students and their allies at 20 universities across Canada. They work year-round to make their communities safer and more inclusive by providing platforms for their peers to share their own lived experiences, and by supporting local LGBTQ+ initiatives through their 50/50 fundraisers.
AFTER-SCHOOL
An on-going leadership group of 2SLGBTQ+ students and their allies aged 13-17, focused on skill-teaching, community-building, and facilitating new experiences in a safe and welcoming environment.
Our After-School Program was inspired by conferences focused on bringing young 2SLGBTQ+ and ally professionals together with high school students involved in their school's Gay-Straight Alliance or Positive Space Group, to provide a fun and safe space for students to learn new skills they could bring back to their schools.
TEAM
Our team is passionate, diverse, hard-working, and friendly. We believe that everyone brings something different to the table, and that best ideas can come from anyone.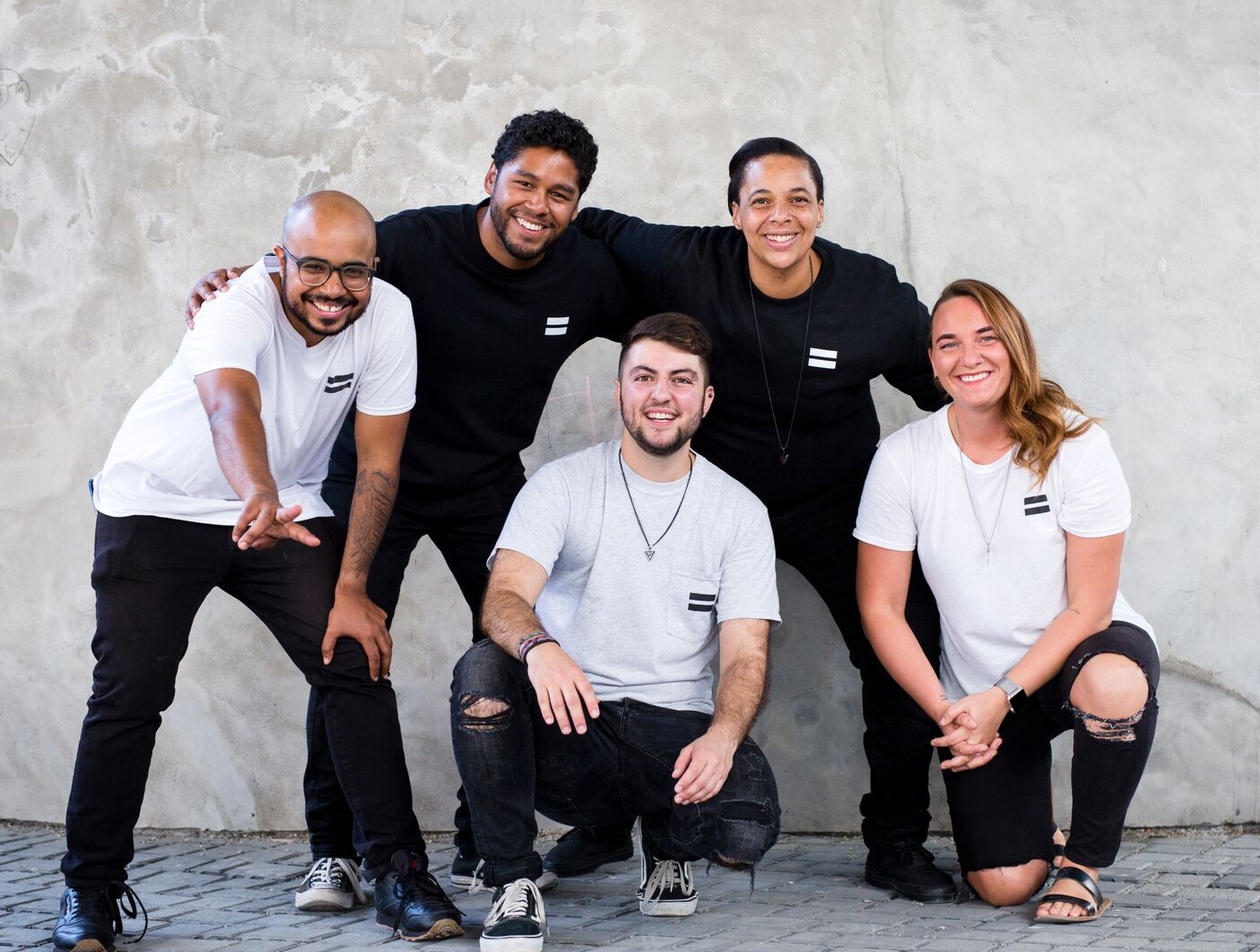 Marley Bowen - Executive Director
Marley Bowen is the dynamic force behind Get REAL's expansion over the past three years, and a proud leader of the organization. Hailing from Gros Morne, Newfoundland, Marley got involved with Get REAL while she was in university on the east coast, because she felt like her high school environment wasn't a place that people felt comfortable coming out and being themselves. After coming out as gay herself, she wanted to give back and help others who may be struggling accepting their sexuality. After flying to Toronto for a high school speaking tour, she took on the second ever full-time staff position and has been growing the program ever since. Her unwavering optimism and unparalleled work ethic has enabled Get REAL's workshop program expand to one of the largest in Canada, impacting 8 provinces (and 3 states), and over 150,000 young people to date.
Marley manages all of the organization's workshops, keynotes, and other speaking engagements year-round, in addition to being a prolific speaker herself. She is the key player in Get REAL's social media growth, merchandise designs, fundraisers, and new partnership development -- really, anything that helps the organization grow. Her instincts for the Get REAL brand have helped define the organization internationally, and carve out its unique place in the LGBTQ+ non-profit landscape, and her fearlessness and her belief in the organization's results have navigated Get REAL through the many challenges a non-profit organization faces. Born in Newfoundland, Marley currently lives in Toronto and loves exploring the city (good food and hip coffee shops), spinning, meeting new people, and spending far too much time at the dog park with the newest (and furriest) member of her family.
Chris Studer - Executive Director
One of the founding members of the organization, Chris got involved in Get REAL because of the success he was having speaking to first year students about homophobic language during his time in the Western Orientation "Welcome Week" program. He found he had an ability to get through to kids who reminded him of himself at a younger age by sharing his own experiences of friends coming out to him, embracing his own differences, and learning from others to be a supportive friend. He helped found Get REAL as a small student group with three other friends, and has been a leader in the organization ever since.
Chris currently oversees fundraising, sponsorship, finances, legal, social media, web development, merchandise, new partnerships, events, the university chapter program, and is one of the lead speakers at the organization, having spoken everywhere from Ted X Youth, to Pepsi's Ally Pledge Week, to 20,000 youth at We Day Toronto. Born in Lima, Peru, Chris currently lives in Toronto and loves playing drums, listening to podcasts, reading biographies, and consulting with younger organizations looking to make an impact on the world.
Lucah Rosenberg-Lee - Marketing Director
The newest addition to the team, Lucah came on board in the fall of 2017 to manage Get REAL's marketing and develop effective and meaningful content, helping the organization reach new audiences and share not only the countless stories of the individuals involved, but also the story and brand of the organization itself. An excellent speaker in his own right, Lucah also brings his intersecting life experiences to Get REAL workshops across Canada, with his inspiring story of achieving success not only in his professional life, but also as someone navigating being transgender.
Lucah currently handles everything from Google Ads, to Facebook Analytics, to website design and film production for bigger video-based projects. Born in the Dominican Republic, Lucah currently lives in Toronto, and is also an independent filmmaker. His first film, "Passing", was a short documentary profiling his experiences as a black trans man and how others like him cope with the gender transition in a binary world.
Max Denley - Director, After-School Program
Max Denley is the director of the Get REAL after-school program in Toronto — working on the ground to ensure that our service as an organization is delivered effectively, responsibly, and is of the highest calibre possible. Max got involved with Get REAL while at Acadia University, where he began sharing his story of perseverance and self-discovery through mental illness and transition, with the goal of inspiring youth to embrace build confidence in their own stories and lives. Max quickly emerged as a prolific public speaker and quickly moved up to take the lead on facilitation across the organization, and then managing the after-school program.
Born in Brampton, Ontario, Max currently lives in Toronto and loves playing music, hockey, video games, donuts, and his service dog Lily. Max has a passion for mental health and diversity, and embraces the notion that we all have many facets to our identities and that each person's individual combination of pieces is not only what makes beautifully diverse, but is also what connects us to one another as fellow human beings.
Raia Carey - Director of Strategic Partnerships
Raia "Coach" Carey is our director of partnerships, facilitating new corporate funders, celebrity endorsers, and event sponsors. A 2x certified Life Coach and motivational speaker in her own right, Raia also helps with facilitation, which is how she got involved with the organization in 2017. Her personal story of losing over 300 lbs, and persevering through bullying and adversity faced due to her weight, her race, and her sexual orientation continues to resonate with students and corporate audiences alike.
Raia currently ensures Get REAL has the right partners in place to enable growth, and so she is always on the look-out for new companies, events, and new ambassadors to collaborate with. Born in Toronto, Ontario, Raia currently lives in Toronto and loves fitness, delicious food, practicing self-care, and assisting people discover their hidden confidence through her profession as a Life Coach. Oh, and her dog Jax!
Loyalty One is both our workshop partner and one of our events partners, supporting our annual Pride On A Boat fundraiser. Their generous donations (both monetary and in-kind, via Air Miles) enable us to reach thousands of young people in regions across Canada, every year. We truly couldn't do it without them.
TD Bank has been a partner of ours since 2015, when they funded our first ever Skill-Teaching Summit for GSA (Gay-Straight Alliance) students in Hamilton, Ontario. These summits were the foundation of our current After-School Program, which TD also helped us establish in Spring 2017. They continue to remain a valued partner and mentor with our work.
The Lawrence Family Foundation (founded and managed by Jim Lawrence) is a crucial supporter of our program, providing financial support over a three-year commitment. Jim is a leader when it comes to LGBTQ+ philanthropy, and understands the challenges that non-profit organizations face. We are grateful to Jim for the support, the mentorship, the words of encouragement, and the friendship.
Get REAL has been a proud member of the Lush Cosmetics Charity Pot program since 2015. Since then, the team at Lush have been key supports of our university chapter program, as well as our newest training summit for facilitators, the Get REAL Speakers' Conference. We are proud to work with such a dedicated and forward thinking organization, who also happen to have some of the nicest staff around, both in-store and in-office!
We are proud to have entered into a Trusteeship contract with Toronto-based charity Sketch Working Arts. Not only is this a huge boost in mentorship and guidance from folks who have been on the front lines of supporting marginalized youth for 25+ years, but it also means that we are able to accept funds from companies, foundations, and grants that, as a rule, only make donations to charities. To read more about the incredible work that Sketch does, click here.
We could not be more thankful for the support and guidance that we receive from the team over at Blake, Cassels, and Graydon LLP in Toronto. We have been fortunate enough to be a pro bono client since we incorporated in 2012, and the team at Blakes has been a crucial part of our development ever since. We are grateful to Tony, Joyce, Dori, and all of the smart, caring, and hardworking individuals who make up the Blakes office. Thank you.
We have been working with the team at Textbooks For Change ever since they began their work at Western University. T4C is a fast-growing social enterprise dedicated to making a big impact, and supporting non-profits, charities, and student-led initiatives along the way. Our chapters work with the campus team, to run textbook drives every April, and we were proud to be the founding partner of their shipping fulfilment service, whose team goes above and beyond when it comes to delivering customer service for our online customers around the world. If your student group would like to get involved with a textbook drive in support of Get REAL, please click here!
We are proud to have worked with Brad and the team over at Genumark for over 5 years. Genumark is another partner who goes above and beyond. Brad has helped us and guided us as our merchandise has taken off and become a key part of our fundraising. If you are interested in Genumark as a merchandise partner for your company, organization, conference, or event, feel free to email us here!
We are proud to work with the team over at Stern Cohen LLP, who are professional, caring, and infinitely helpful in their guidance. They work with many non-profit organizations and charities (including our friends over at Venture For Canada!), so if you are in need of accounting support, feel free to email us here.
Kids Help Phone is Canada's only national 24-hour bilingual and anonymous phone counselling, online counselling and referral service for children and youth. They also have an incredible database of resources at their disposal. Mental health is important to all of us at Get REAL, as is providing a place where students can go to for local resources in their area, and we are proud to call Kids Help Phone a national partner.
We are proud to be partners with Telus through their Community Investment program. Telus currently supports our Inclusivity Workshops and our Anti-Bullying Video Program in the Greater Toronto Area.
Taking It Global is a youth-granted platform that helps young people across Canada turn their ideas into action. We are grateful for the support they provide for our Inclusivity Workshop tours across the country. To apply for your own initiative, please click here!
The Grants to Youth Organization funding platform is a program made possible by the government of Newfoundland & Labrador, and their support helps us reach high schools and middle schools across the province.
We are a proud community partner of Sobeys. Thank you for helping support our Inclusivity Workshop program across Canada!
partners
We are proud and fortunate to work with partners who care deeply about supporting the work that we do here at Get REAL. Thank you for believing in us. We could not do it without you.